Canine/Feline Solutions Catalog Page 12
Animal Essentials - NO LONGER AVAILABLE
ABC Pet SIZES HAVE BEEN DISCONTINUED - LARGERS SIZES MAY BE AVAILABLE UNDER EQUINE/HORSE CATALOG
DOSEAGES BELOW STILL APPLY FOR SMALLER ANIMALS

Our Goal is Optimal Health.
Optimal health of your pet is the state where the pet's coat is shiny and only sheds a little, its breath smells good, its eyes are bright and its ears are sweet smelling."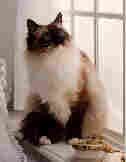 Animal Essentials is a complete dietary supplement for the everyday health of your pet.
It contains only the highest quality human grade herbs, vitamins, essential fatty acids, amino acid chelated minerals in a balanced, health-support formula.
Used in conjunction with a good diet and exercise, this formula will support your pets' resistance to bodily disorders, increase vigor; and help assure that your companion is getting the nutritional diversity needed to remain healthy and happy.
Animal Essentials is a combination of safe, effective, time-proven herbs which are joined together to provide broad spectrum herbal support without interfering with normal body functions.
Ingredients: Ground stabilized flax seed, Spirulina, Garlic, Lecithin, Alfalfa, Dandelion root. Ginkgo leaf, Hawthorn berry, Nettle leaf, Yucca root, Amino Acid Chelated Minerals, Vitamin C, Vitamin E, Niacinamede, D-Calcium Pantothenate, PABA, Vitamin B-1, Vitamin B-2, Vitamin B-6, Vitamin A Palmitate, Vitamin D-3, Vitamin B-12, Folic Acid, Biotin
Directions:
Give one Tablespoon daily per 30 lbs. of body weight (one teaspoon per 10 lbs.).

Start at 1/3 dosage and gradually increase over the first 2 weeks.

Use as a top dressing on food and add water to make a delicious gravy. They'll love the taste!
Item No. 839 Size 400 grams $25.00 plus freight Qty Break $23.75

Animal Essentials Skin and Coat Formula
Essential Fatty Acid Softgels supplement for Dogs and Cats
All Natural with Marine Lipids and Spirulina
Animal Essentials replenishes fatty acids that are easily destroyed by normal processing of commercial pet food.
Fatty acids are vital to the everyday healthy coat, heart and cardiovascular system, strong muscles and healthy joints of dogs and cats.
Ingredients: Marine Lipid Concentrate, Borage Oil, Grape Seed Oil, Wheat Germ Oil, Lecithin, Spirulina, Sea Bed Trace Minerals, Natural Vitamin E.
Directions -
Give one capsule daily for each 20 lbs. of body weight.

If pet weighs less than 20 lbs, give one capsule every other day.

You can feed the capsule whole with food or twist the tail and squeeze the oils onto the food, They'll love the taste!
Item No.840 $18.00 plus freight Qty Break $17.55
Take Me to More - Go here...

Quick! Take Me To The Shopping Cart & Check Out!...

Use the Navigation Bars for quick and easy access.

You can contact us by Snail Mail at: