Equine Solutions Catalog Page 37

Liniments Sore No More by Equilite
Liniment, Sauce, Wraparounds, Massage Shampoo, Cooling Clay Poultice
Equilite, Inc. Sore No More® Liniment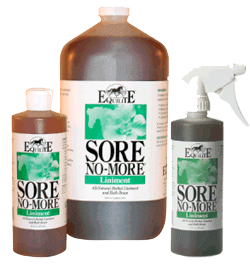 ALSO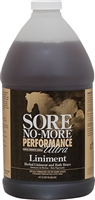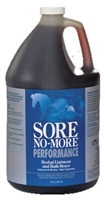 The Performance and Ultra Performance Line have no Lobelia, no Capsasian and are great for sensitive skin horses.

and SORE NO MORE Gelotions - thicker

All-Natural Liniment for Equine Athletes
Ingredients: Common herbs in a natural alcoholic extract of Witch Hazel Bark and Leaves, Arnica, Rosemary, Labelia and Lavender.
Horses that run, race, or jump, whether for sport or competition, are subject to a variety of physical overuse injuries.
Soft tissue injuries such as muscle, tendon and ligament injuries as well as the more serious conditions such as inflamed joints and arthritis are common problems among performance horses of all breeds and disciplines - even those in peak condition. If left untreated these conditions can not only hamper performance but lead to permanent damage and disability.
Sore No-More is an all-natural liniment and is safe to use everyday or several times a day.

Sore No-More aids in increasing circulation and speeding recoveries and is helpful in reducing pain and swelling and stimulating the body's own natural healing systems.
All Natural Herbal liniment
No undesirable chemical additives, abrasives, or oils
A totally distilled blend of Natural extracts containing no added alcohol
Available in Liquid, Gel & Shampoo Form
Liniment: Witch Hazel, Arnica, Rosemary, Lobelia, Lavender

Gelotion: Xanthum Gum

Shampoo: Virgin Cocoa, Veg. Protein Oil, Amide Cocoa Fat, Coconut Oil, Vegetable Fat Conditioner, Distilled Water A cooling liniment that will not blister or burn - Use under bandages or magnets
Use prior to exercising to loosen muscles and tendons - Great when bringing an animal back from an injury
A leg and body brace before and after exercise to stimulate blood flow
Use as an indicator for sore muscles-will lather when you rub it into a sore muscle
Excellent for use on chemically sensitive horses
Shampoo is Sodium Lauryl Sulfate FREE, great for dry, sensitive skin

Equilite's Sore No More is an exceptional arnica and witch hazel based herbal liniment that contains no chemicals or harsh abrasives. Great to use as a massage liniment before and after exercise, or as a leg or bath brace. Wonderful for horses with sensitive skin. Use with or without bandages. It is a cooling liniment, therefore safe to use under magnets. Voted by Horse Journal "Product of the Year", as the best herbal liniment for reducing pain and inflammation. Great for humans too!

Size
Item 16 oz. (Sore No More® Liniment)

Item 16 oz. w/ Spray Top (Sore No More® Liniment with Spray Top)

Item Half Gallon (Sore No More® Liniment)

Item Gallon (Sore No More® Liniment)


The Performance and Ultra Performance Line have no Lobelia, no Capsasian and are great for sensitive skin horses.

"I have had great results with this liniment. I have a few sensitive horses that seem to tolerate the product. With no luck with other, Sore No More keeps their muscles soft and supple."

Suzy Stafford, Stafford Carriage Driving - Bear, DE


"Quito II is a 17 year-old Belgian Warmblood that I compete on in the 3' jumper and 3' equitation classes. After a long day of showing on Saturdays and Sundays, I like to give him a whole body wash with the Sore No More Liniment. I dilute it with water and apply it all over with a sponge, and then follow up with rolling a tennis ball over him (a tip I got off your website!). He really enjoys the entire process, and Sore No More has a very pleasant smell as well – not medicine-y like some of the other liniments. I've actually used the leftover liniment in the bucket on my arms and hands!"

Lee Barnes Deefield Beach, FL


"I am an equine massage therapist - Sore No More is the best liniment out on the market. I recommend Sore No More to all my clients. I've gone so far as to use it on myself as well. It is an integral part of my massage routine. And it does not blister my hands like Biegeloil and Absorbine did. Many, many thanks for a wonderful product."

Bob Rush - Pinecroft Sport Horses, Virginia


"I have tried many different liniments but none of them came close to the results I got with Sore No More. My horse, Biscuit will always have his rub down with the liniment after a hard, stressful workout."

Tracey Goodman


"I use Sore No More on all my horses. When they work hard I can feel a significant difference if they've had their Sore No More rubdown or if they haven't. It's amazing stuff!! Everyone should experience and use it"

Courtney King Dye, USDF Gold Medalist


"I have never tried any product that I have seen such immediate results as Sore No More Horse Liniment. I dilute it for a body wash or use it straight for a leg brace after a work out. It is the first thing I apply if I notice any swelling or soreness on my horse or myself!"

Sharon Camarillo Barrel Racing Clinician and Instructor Lockeford, CA


"I'm meticulous about the care my horses get because they work incredibly hard for me. With all the demands Eventing places on a horse, their muscles get sore - I know mine do! I use Sore No More as a liniment, brace and shampoo as part of my regular program to keep my horses comfortable."

Jan Byyny, 2004 U.S. Olympic Three-Day Squad Alternate


"We use Sore No More Equine Liniment as part of our daily program and have for years. All of our horses get a pre-race rubdown with Sore No More to help warm up their muscles, especially in their hind end! It is an important part of our groom's routine. It helps us to get to the Winner's Circle."

Barclay Tagg, Thoroughbred Race Horsse Trainer - Derby Preakness Winner

"It's (Sore No More Horse Liniment) a terrific product. It enables us to use it on the muscles, on the big large muscle mass of the horse whenever his back is sore, or when his hind end is tired from the work. It is really, really great!"

Karen O'Connor, Olympic Medalist, Three-Day Eventing

"I really think that natural herbal supplements are the way forward in the equestrian world. The Equilite product line makes me feel confident that I am providing my top level international horses with the supplements they need to maintain a high level of performance. I love Equilite's Sore No More Equine Liniment. Having the availability of both liquid and a gel provides me with a multi-purpose product that really works! It is marvelous for a variety of uses including massage and wrapping. I even use it as a body wash on Grand Prix days just before I use my Centurion Magnetic Blanket. With the Equilite line of products, I feel more confident about the long-term well being of my horses."

Nona Garson, Olympic Medalist & Leading Lady Grand Prix Rider, Lebanon, NJ


"Sore No More Horse Liniment has become an important part of my equine therapy practice. I use it on all of the horses that I work on, including Breeder's Cup Champions and many stakes winners. Sore No More Equine Liniment works very well with all of the modalities that I use."

G Dianne Volz - Equine Therapy 502, Inc., Simpsonville, KY

"I just wanted to take a minute to let you know that my horse had a semi-serious injury to both front legs. I applied Sore No More Horse Liniment right away, along with cold therapy and support wraps. When my vet came he remarked on for the type of injury the horse had that he had no swelling.

I was so glad that your product was available when I really needed it. Everything I read identified that critical to minimizing long term damage was to keep swelling out of the tendons. I know that in the past ice packs alone were not enough to relieve the type of swelling my horse had initially.

The injury on Ultrasound showed the horse has injured both front leg suspensory ligaments, deep digital and superficial digital tendons. He is on stall rest for 6 months but full recovery is anticipated. I am applying Sore No More Equine Liniment to all of his legs to address the injury and stall fatigue. "

Cheryl Price, Ridgefield WA


"I use Sore No More Equine Liniment on all of my horses and myself. I use it both proactively and reactively and absolutely love the product. It makes my horses and I feel so much better!"

Jessica Heideman, Eventer

"Sore No More Horse Liniment has become an integral part of my saddle fitting routine. The main reason for fitting and adjusting saddles is for the comfort of the horse. In my work, I often find varying degrees of muscle tenderness and pain during the back examination. The Sore No More Equine Liniment will convey a foaming reaction wherever a tender, sore spot exists under the saddle. It has not only helped to make my client's horses backs more comfortable, but it is an excellent indicator for areas that need to be cared for in the equine athlete."

Gary Severson - The Saddle Doctor, Collinsville, CT

"We had a show this weekend with footing that was so deep and slick we filed a complaint. My horse only went in because he was doing a Long Stirrups class for a friend's child and the judge had decreed no cantering after two ponies fell in the mess. Trotting was safe, but you could tell it was a slog. I put the Sore No More Horse Liniment on his legs as soon as he came out and again when he got home and today he was the only horse that was not showing any stiffness at all. I'm sure it was from the Sore No More Equine Liniment!"

Gina Kazimir


"I love your Sore No More Horse Liniment...I'm an Equine Massage Therapist and use it regularly on my horses as well as others (not to mention, my feet as well!). Thanks!"

Kimberly Vargo, Equine Massage Therapist, Cold Spring NY

"The Sore No More is very effective. Last Saturday night I was moving the tractor and when I went to stop my foot slipped off the clutch. The clutch pedal hit me so hard in the shin, not only did it make a 2 inch gash it also hit me so hard that I was sure that I'd broken my leg. I managed to stop the tractor but it was all I could do to climb off the tractor. I couldn't walk on it at all - poor Bob had to carry me into the house and the pain was unbelievable. After 2 hours of ice I poured Sore No More over it. By yesterday it was killing me again so I poured more Sore No More over it and again this morning - I gotta tell you it is so much better I think maybe I can even ride tomorrow!"

Lori Lampert


"I've used it all...lotions, liniments, you name it. Sore No More Horse Liniment does the job better than anything else I've ever worked with. Sore No More Equine Liniment can be used on any horse without the threat of allergic reactions. It's great on their backs and legs, with or without wraps. I have been using Sore No More ever since it came out, and have used it all over the world, including the 1996 and 2000 Olympics. No other product can take sore muscles out of horses in such a short time. I have shortened my prep time for the Three Day Event horses and found they came out of their rigorous competitions in much better condition than usual."

Douglas Hannum, Equine Sports Therapist for the USET Olympic Squad, Nottingham, PA

"Giacomo (2005 Kentucky Derby Winner) uses Sore No More Horse Liniment as his regular leg brace. We believe it to be a safe and effective liniment. Showcase of champions inside. "

John Sherrifs 2005 Kentucky Derby Winning Race Horse Trainer, Arcadia CA

"The Gelotion has the same great results as the liniment with longer lasting effects since it stays on so well. It is very easy to administer in a localized area of the body, such as hocks, stifles, etc."

Suzy Stafford, Stafford Carriage Driving - Bear, DE


"The Oakland Zoo Giraffe Team is a huge fan of the entire line of Sore No More products! The products are easy to use and extremely effective. We have used the Sore No More topical solutions to reduce inflammation and soreness in the muscles and joints of giraffes with thrush, arthritis, ringbone, and lactic acid build up. It is great for more sensitive animals because it has a natural, pleasant scent instead of the typical menthol smell associated with topical anti-inflammatory substances. The Oakland Zoo Giraffe Team recommends the Sore No More products to giraffe keepers everywhere!"

Amy Phelps and Melissa McCartney, Primary Giraffe Keepers, Oakland Zoo


"The day after Equine Affaire, I went to the barn to discover my horse had extremely stocked up hind legs for no apparent reason. This horse with a relatively high threshold for pain, would not even let me touch her hind legs (below the hock) with a finger without flinching and lifting her leg up like she was going to cow kick. After a bit of work, I got her used to me feeling her legs and was surprised to find no heat or strong pulse at all. I put Sore No More Equine Liniment on her legs and massaged it in and it was the only way she would let me touch her legs for more than a few seconds. The moment the Sore No More was on and I rubbed it in she lifted her leg up and held it on my leg for me to rub it and the head dropped and eye lids drooped. Same case yesterday, she'd only let me touch her legs after putting on the Sore No More Gelotion."

Molly Mills, Eventer, Maynard MA

Sore No More® Sauce


The newest thing for hoof abscesses and problems. Based upon the old time remedy "sugardine", an unlikely combination of sugar and iodine. Some NY farriers have found that by including the ever popular Sore No More liniment into the equation they had an even more effective formula to work with. You no longer have to work with the harsh nasty chemicals for hoof problems such as inflammation, bruising of the sole, abscesses, infection, or resections of the hoof. Just take The Sauce and mix with some sugar until it becomes a thick creamy paste. You can use The Sauce straight as well.

The Sauce is Sore No More's liniment combined with Povidone Iodine. This herbal dressing combined with sugar may be one the most effective sugardine combination yet. Sugardine is an old time remedy of mixing iodine and sugar to form a paste that is then applied to open wounds, abscesses, or resected hooves to reduce inflammation, infection, and healing time. Simply add sugar to make a hoof packing for abscesses and thrush. Use it straight as a topical anti-bacterial, anti-fungal paint to be used on scratches, hooves prone to thrush, infection, or traumatized areas.

Up to 70% more effective than plain Sugardine
Easy to apply to surface
Antibacterial properties
No offensive odor
Reduces edema
Accelerates granulation of tissue
The Sauce: Witch Hazel, Arnica, Rosemary, Lobelia, Lavendar, PVP-Iodine Soothing, non-selective germicide, bactericide, fungicide, and virucide
Paint on the soles of the feet for stone bruises or to toughen the soles
For thrush, heat, infection or traumatized hoof tissue
Mix with sugar (sugardine) to treat abscesses
Use for skin fungus issues too! For scratches, rain rot anywhere on body

A super step forward in clean safe herbal hoof care for all horses!

Found an Abscess?
Reach for THE SAUCE!
The fast new and natural herbal sugardine solution!
Just add sugar or use it
straight! Recommended for
stone bruises, thrush, other
sole problems and scratches.
Based on the popular "Sore
No More" herbal liniment,
"The Sauce" combines iodine,
arnica and other herbs in a
witch hazel base.
Veterinarians and farriers—
Pass "The Sauce" on to your
clients!
Just add plain sugar or use it straight!

When treating hoof problems,
you'd better reach for THE SAUCE!
Based on the popular Sore No More
herbal liniment, The Sauce combines
iodine, arnica, and other herbs in a
witch hazel base. Sugardine is an
old time remedy of mixing iodine
with sugar to form a paste used
to spread on the soles of hooves
to soothe inflamed tissue. Add
Sore No More into the equation
and we have one of the most
effective Sugardine combinations yet.
Paint The Sauce on straight for scratches, thrush
and inflammation or combine with sugar to help combat the
toughest hoof problems. You no longer have to use harsh
chemicals for hoof problems, just reach for The Sauce!
Highly recommended by top farriers and veterinarians worldwide.
It's a super step forward in safe, herbal hoof-care for horses!
Pour on The Sauce Straight for
• Scratches
• Thrush
• Inflammation
• Bruising
• Infections
• Mild leg paint/blister
Mix a Sugardine Sauce for
• Inflammation
• Abscesses
• Bruising
• Infections
• Resections
• Thrush

SUGARDINE RECIPE
- Have a paper/plastic cup ready
- Add 1.2 cup of sugar
- Drizzle The Sauce in
- Stir until the mixture thickens into
a peanut butter-like substance
- If mixture becomes too
runny, add more sugar




Size
Item 8 oz. (Sore No More® The Sauce™)

Item 32 oz (Sore No More® The Sauce™)

Quick! Take Me To The Shopping Cart to Order & Check Out!...


SORE NO MORE® THE SAUCE

"I have been fighting thrush in my gelding's hooves for several years. Could keep it at bay but never get rid of it. Have been using several different products. Had used Keratex for more than a year. It worked but never closed the deep cavities in his frogs so if it was not used every day the thrush would return immediately. I was out of Keratex and had a bottle of The Sauce that had been used as a Sugardine solution. I used it in all four hooves and within the first week one of the frog cavities closed! Have used it for some weeks now and all four hooves are so much better. If he is out of work for a couple of days and I don't get his feet done, then I am not 'back to zero' like with other products."

Charlotte Linder, Dressage Rider and Trainer/Breeder


"I used The Sauce on a stone bruise the my horse had got, and boy within three days it took the heat right out! The Sauce is great! "Sore No More has kept me from having to take time off. My mare cannot afford to be laid up for a week. Sore No More is just an awesome product!"

Holly Ricotta, Amateur All Around Speed Horse Champion

"We were thrilled with the results we had using 'The Sauce' to make sugardine to aid in the healing of abcessed areas of foundered feet. We have also had great success using the same product to treat thrush that was unresponsive to other products. Many congratulations for producing such a wonderful product - you have a client for life!"

Sandy Johnson International Farrier Service, FL


"We love Sore No More. Fantastic products! We put it everywhere on the horses, even the ones with sensitive skin! The Massage Shampoo is the best. It leaves them feeling great and their coat clean and shiny,!. The Sauce has saved some of our horses with hoof problems and brought them back to work faster than expected!"

Anne Kursinski, Four-time Olympian, Olympic Silver Medalist


"The Sauce clears up thrush quickly. I use it for a lot of things, thrush, scratches, rainrot and abscesses. It's great to have around the barn."

Ralph Caristo, Saugerties NY


---

Sore No More® Wraparounds

NO LONGER MADE


Towlettes that have been soaked in the famous fragrant Sore No More Liniment. For ease of use, just pop out a sheet and apply. Great to use under quilts for an herbal leg wrap, swipe on the body for use on sore muscles, line under ice boots or cold packs, wrap around heel bulbs or bruised soles. Great to take along anywhere you go.

WrapAroundsTM–Sore No More Liniment has been soaked on a towellete for ease of use. You can place it around a leg before bandaging, use under shipping boots, lay a sheet anywhere on the body or use as a wipe for those hard to reach areas. Great to use under any poultice for easy clean up or when there is no water accessible for washing. Comes in a handy, comfortable to hold canister that is easy to put in a grooming box or tack trunk, at home or on the road. No worries about spilling of liquids or breaking during shipping.

All Natural Herbal Horse Liniment presoaked towlettes
May be used hot or cold
Can be used anywhere on the body
Convenient travel pack
Excellent under standing wraps
Natural analgesic
WrapArounds: Witch Hazel, Arnica, Rosemary, Lobelia, Lavendar Easy application
Apply and hold liniment on those hard to reach places
No wasting of liniment
Helps sore & strained muscles, tendons, or ligaments
Improves circulation & rids affected area of edema



Size
Item 25 Count (SNM WrapArounds - Handy Towellets)

Quick! Take Me To The Shopping Cart to Order & Check Out!...



SORE NO MORE® WRAP AROUNDS

"Thank you, thank you for making Sore No More Equine Liniment! It is a vital part of my training program - both for my Third Level stallion, Gideon Goodheart, and for myself. I use it every time we work as a support for a strong and pain free body in Gideon and I also use it for my own relief. At 60, I am dealing with the physical results of competing The Gray Goose at the international USET Three Day Event Team level, and from two very serious car accidents. Sore No More WrapArounds live in my truck, and I splash some on at night so that I can get out of bed effortlessly and sit Gid's powerful trot with ease. You and Sore No More are definitely part of our Team!"


Kim Walnes - Quakertown, PA
Photo Credit of: www.pattiklein.smugmug.com
"We (our barn) just purchased some canisters of the Sore No More WrapArounds and let me tell you, these are the greatest things to come along in the horse world since baled hay!!!!! What a fantastic idea. Keep up the great work!"


Christiane Cambell, Esq. Philadelphia PA

"I absolutely love the Sore No More Wrap Arounds. I have had several occasions to use them and the results are amazing. Just like the liniment, any swelling goes away quickly. I feel confident in wrapping my horse's legs without the worry of blistering or damaging the skin. I know my horses and I can tell they feel better when I use the Sore No More before and after a workout. They are a must have at every competition."


Susan Van Rein
Equine Studies Instructor - Sierra College Rocklin, CA
Sharon Camarillo Performance Team Member

"The Sore No More Wrap Arounds worked great for me under leg wraps, hauling to rodeos. I also used the wraps under my magnet sheet over Ropenator's back. His legs stayed tight. I think the sore no more wraps pulled some of the swelling out of his ankles."


Donna Irvin, Sharon Camarillo Team Member

---
Sore No More® Massage Shampoo


A pure plant based shampoo concentrate free of the harsh detergent, Sodium Laurel Sulfate, a proven skin irritant.
This gentle cleanser has the added benefits of the Sore No More liniment.
Rinses clean with no residue. Leaves their coat silky and shiny.
Tails no longer itch and hair grows back quickly. Great for dogs too!

Size
Item 8 oz
Item 32 oz
Item 1 Gallon




Quick! Take Me To The Shopping Cart to Order & Check Out!...



SORE NO MORE® MASSAGE SHAMPOO

"This past spring/summer, my gelding developed an allergy possibly to something in the dirt. His crest became flakey and itchy and he proceeded to rub out his mane. I tried several different products for fungus and skin relief but nothing had any effect. The only thing that gave my horse relief was daily washing with Sore No More Massage Shampoo. The skin starting getting healthy within a couple of days and provided I shampooed him daily, the rubbing and itching stopped. His mane is growing back thick and healthy."


Susan Van Rein Equine Studies Instructor - Sierra College Rocklin, CA
Sharon Camarillo Performance Team Member


"I wanted to thank you for the Sore No More Massage Shampoo. Living in the woods as I do in New York my dog frequently comes home covered with ticks. I do not like to use the Frontline or other pesticide products because I worry about the effect on my dog's systems and I also have a small child and do not want her in contact with these products. Since using the Sore No More Massage Shampoo I have not found a single tick! I wanted to thank you so very much for this product, you have had a very positive impact on the health of my family."

Key Burns, Bedford Corners, NY


"The Sore No More Massage Shampoo is great. My horses show often and constant bathing with other shampoos dries out their coats. With Sore No More Massage Shampoo their coats stay shiny and healthy. I also like that it is easy to rinse out, that saves time at busy shows and ensures that soapy residue isn't left on the horses' coats."

Ralph Caristo, Saugerties NY

"The Sore No More Massage Shampoo has my horses as clean as other shampoos without getting dry skin. It doesn't remove all the natural oils that help protect our horses' coats."

Bobby Meyerhoff, Eventer, Middleburg VA


---

Get In Touch With Sore No More, and Your Horse

The very best thing you can do for your horses are to put your hands on them. This "In Touch with Sore No More" Massage Kit will allow you to work on your horse, with very little training, but still achieve a positive result.

"In Touch with Sore No More" provides you with the tools to begin working on your horse. By applying the Sore No More to your horse, and using the wooden massage rollers to work the liniment deep into the muscles you can release tension, increase circulation, and reduce muscle fatigue. Your horse will love it, and love you!

"In Touch with Sore No More" Massage Kit contains Dr. Ormston's Equine Muscle Rehabilitation poster, 2 wooden massage rollers to be used with either the enclosed Sore No More Liniment or Gelotion. Comes in a handy washable bag.

Massage Kit.....$24.95 NO LONGER MADE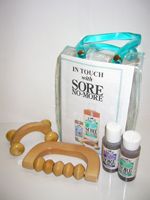 Quick! Take Me To The Shopping Cart to Order & Check Out!...

---
Sore No More® Cooling Clay Poultice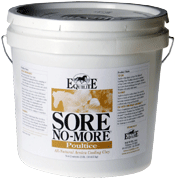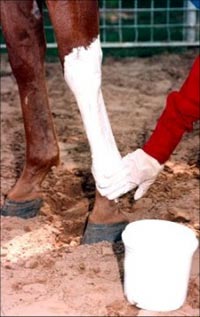 also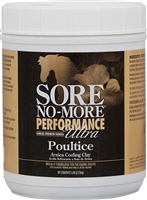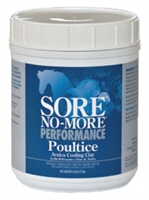 The Performance and Ultra Performance Line have no Lobelia, no Capsasian and are great for sensitive skin horses.

The Master of Muds has arrived ... Sore No More® is no longer just an Award Winning Liniment. It is now available in a Cooling Clay Poultice that is silky smooth, non-irritating and heat drawing packing. Use on legs or as a hoof packing to draw out heat and inflammation. Can be used anywhere on the body. Same great Sore No More® formula mixed into a blend of bentonite clays for easy application. Goes on evenly and comes off easily. A thin layer is all you need. A bucket goes a long way! Available in easy to stow 5 lb container or 23 lb bucket.

Silky smooth and creamy rich clay base
Non-irritating drawing poultice
An excellent topical application for sensitive skinned animals to cool and tighten before and after exercise, training or competition
Poultice:

Bentonite/Kaolin in a solution consisting of an all-natural proprietary blend of Witch Hazel, Arnica Montana, Rosemary, Lavender, Lobelia
Sodium Borate (as an all-natural preservative)
Easy applied - Easy washed off
Apply to legs or body to reduce heat, swelling, inflammation, and infection
Use as a cooling hoof pack
Great to use over SNM WrapArounds for quick clean up, if it is too cold to hose or there is no water handy

The Performance and Ultra Performance Line have no Lobelia, no Capsasian and are great for sensitive skin horses.


Size
Item 5 lb. (Sore No More® Cooling Clay Poultice)
Item 23 lbs. (Sore No More® Cooling Clay Poultice)


Quick! Take Me To The Shopping Cart to Order & Check Out!...


SORE NO MORE® COOLING CLAY POULTICE

"Sore No More's Poultice is so much lighter than normal poultices -- it feels creamier. It goes on so smoothly and easily, and washes off so effortlessly. I found that I used far less of it, and I love the light, fresh scent. My horse had had filling in his one front leg for about 10 days, and I was poulticing and wrapping. After two days of using the Sore No More poultice without wrapping, his leg was completely down and stayed down. Thank you for such a wonderful product!"

Kim Walnes, Quakertown PA
Photo Credit by: www.pattiklein.smugmug.com


"When Bellinger, my Grand Prix horse, came out of his stall one morning so tender in one front leg he couldn't make a 90 degree turn, I immediately iced the leg and wrapped it up with Sore No More Poultice. My vet confirmed a check ligament injury. After 10 days of this treatment, my vet ultrasounded the leg to find no tears, no strain, and no inflammation - not even two weeks after the initial injury. He's back under saddle like nothing had ever happened. I've never, ever had such a dramatic turnaround from a simple poultice. My vet is equally impressed!"

Lauren Sprieser

"The Sore No More Cooling Clay Poultice has worked wonders for my mare. She is sensitive to different footings, and some of the indoor shows around here use calcium chloride to control their dust. Her legs look okay until you wash them, and then you can see little red dots everywhere against her pink skin. The poultice seems to clear that up. I have put it on my jumper that swells up with Uptite, and his legs look great. I will definitely be getting a bigger tub before the show season, and I threw the last of the Uptite in the trash."

Kate Gerhart, Sellersville PA

"The Sore No More Poultice is the best poultice I have ever used. I have been around horses all my life and tried many products. It draws great and takes the heat right out. It easy to put on, you only need a thin layer and it's easy to take off"

Steve Gower, Assistant Trainer David Vivian Sr. Racing Stable - Calder Race Course, FL

"My horse was out for training and returned to me with an injury to his front leg. I did not know the extent of the injury at first. However when he arrived the bow was huge and carried a lot of heat. I tried the Sore No More Cooling Clay Poultice and found I liked it much better than Uptite. It was much easier to work with. I felt a tremendous draw of heat through the SNM poultice. I don't know whether what I was feeling was true heat or energy, but it was profound. The leg cooled out quickly and the inflammation came right out"

Anne Strawbridge Hetherbridge Farm Chester Springs, PA


"We just tried the new Sore No More Poultice, and it is the best we have ever used!! The legs were cold and tight as could be after just one application!!! Thank you!!"

Steffen and Shannon Peters


"We love the new Sore No More Poultice. Great for taking off shoes for the first time. We have a show mare we want to breed, and needed to take her shoes off. This product helped the transformation from shoes for years, to no shoes, so much easier. We packed it in the hoof and did not cover it. It stayed where we put it until we took it out the next morning. We use it after a hard day's workout on horses that would usually stock up. Abscesses; it worked overnight. So much easier then soaking, especially with a horse who doesn't want to put his foot in the soaking bucket. It is priceless."

Rita Gambino, Bayport NY -- Outlaw Acres


"I like how soft the Sore No More Cooling Clay Poultice is. It is easy to put on and build layers with it. Fabio has 4 white socks and you can imagine how sensitive they are. I saw no skin irritations after using the product. It also has a nice smell. The poultice never made his legs scurf after using. It's nice to know that I'm using a product that is all natural and I don't have to worry about ingredients. It's safe to use on my FEI & CDI Dressage horses. I also like that it can be removed without water so I don't have to worry about fungus. Thanks for the opportunity to try your product. I love Sore No More Equine Liniment and keep a bottle of it in my show trunk!"

Jennifer Mandracia, Groom for Cesar Parra
---

"My animal communicator put me in contact with Stacy Small at Equilite for assistance in choosing the correct remedies for Angel's injury: Sore No More Horse Liniment (Arnica based herbal liniment), Four Hoofs (rich in vitamins and minerals for bone growth), Garli+C Blend (Garlic, vitamin C, and 2 Chinese herbs, Astragalus and Schisandra for a boost to his immune system), and 2 homeopathics, Arnica Montana (for trauma, bruising, sprains) and Symphytum officinale (for bone injury and fractures). About 6 weeks into treatments, we found him dragging his leg. The homeopathics had been weaned, so I restarted the Arnica Montana and used the Sore No More Equine Liniment on the entire leg and shoulder. Every day we saw improvement until this injury was completely resolved in 8 days. His left back hoof split from the coronary band almost down through the entire hoof with a chunk of tissue taken out above the hoof. For this injury, I use The Sauce (with iodine added because there was an open wound) and wrap his hind foot with Vetrap for protection and support. We also re-started the 2 homeopathics that I was previously using. The tissue healed completely in about 2 weeks."

Sharon Garcia

See Relaxing Supplements- Go here...

Use the Navigation Bars for quick and easy access.
TAKE ME BACK "Catalogs":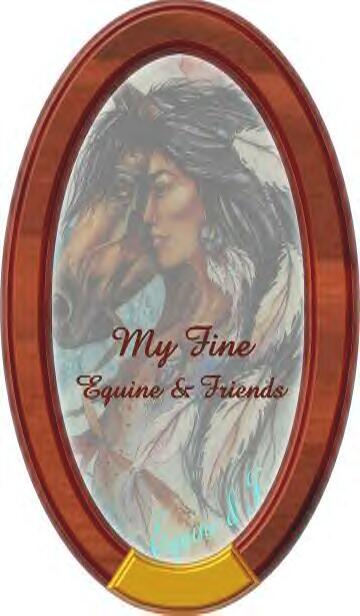 You can contact us by Snail Mail at: